Baby names
Baby Names Book
Baby names from Jane Austen novels
Baby names from Jane Austen novels
In high school, you fell for Mr. Darcy. You saw yourself in Emma, the clever matchmaker. You devoured each one of Jane Austen's novels, wrapped up in the romance and wit. Let that love of literature shine now by choosing your baby's name from among her wealth of characters.

Baby girl names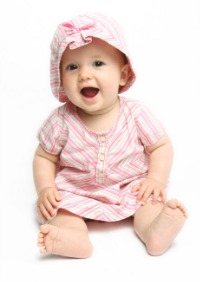 Austen specialized in early 19th century heroines. She gave them sweet, common names that masked that strong (and often headstrong) personality beneath. The names she chose were so common, in fact, that she repeated many of the names throughout her many novels and short stories.
Alicia Johnson, Lady Susan
Anne Elliot, Persuasion
Augusta Watson, The Watsons
Bella Knightley, Emma
Betsy Price, Mansfield Park
Caroline Otway, Emma
Charlotte Lucas, Pride and Prejudice
Clara Partridge, Emma
Dorothy, Northanger Abbey
Elinor Dashwood, Sense and Sensibility
Elizabeth 'Eliza' Bennet, Pride and Prejudice
Emma Woodhouse, Emma
Emily, Northanger Abbey
Fanny Brandon, Sense and Sensibility
Frederica Susanna Vernon, Lady Susan
Georgiana Darcy, Pride and Prejudice
Hannah, Emma
Harriet Harrington, Pride and Prejudice
Henrietta Musgrove, Persuasion
Hetty Bates, Emma
Isabella Thorpe, Northanger Abbey
Jane Bennet, Pride and Prejudice
Jemima, Persuasion
Louisa Hurst, Pride and Prejudice
Lucy Gregory, Mansfield Park
Lydia Bennet,Pride and Prejudice
Margaret Dashwood, Sense and Sensibility
Maria Lucas, Pride and Prejudice
Martha Sharpe, Sense and Sensibility
Mary Bennet, Pride and Prejudice
Penelope Watson, The Watsons
Sally, Sense and Sensibility
Selina Hawkins, Emma
Sophia Grey, Sense and Sensibility
Susan Vernon, Lady Susan
Baby boy names
Jane Austen's male characters are a classy lot. Dashing, rich, and witty, designed to make any woman swoon. We aren't often privy to their first names, knowing them instead as simply Mr. Surname. It's fortunate, then, that surnames as first names have come into fashion over the last few decades.
More baby names
Most popular baby names of 2012
Sassy baby girl names
Baby names that mean fire
More From SheKnows Explorer
Comments
(0)
Subscribe to this comment's feed
Write comment