Baby names
Baby Names Book
Mathematical baby names
If you're a lifelong lover of math, have you considered looking to the field for baby name inspiration? We gathered the best of the best mathematical baby names for boys and girls, from the obvious to the obscure.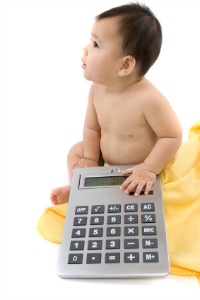 Top 5 baby boy names based on mathematicians
August - Kicking off the list is August Ferdinand Möbius, who developed all sorts of important concepts in Euclidean geometry and beyond, but mostly we know him for the Möbius strip.
Blaise - There wasn't much Blaise Pascal didn't try his hand at, but his greatest achievement was his development of probability theory. You can't go wrong with the surname as a first name in this case, calling him Cal for short.
Carl - Carl Friedrich Gauss revolutionized so many mathematical concepts in the 19th century he came to be called "the prince of mathematics."
Isaac - His law of gravity makes Isaac Newton one of the most celebrated mathematicians and physicists of the last three centuries.
Nash - John F. Nash, Jr. won a Nobel Prize for his work in the mathematical field of game theory. We suggest the surname here for maximum math inspiration and because no one else is using this fresh baby boy name.
Top 5 baby girl names based on mathematicians
None of these names quite make the cut? Get creative with numbers and let math inspire your baby's name in other ways. If your last name has a prime number of letters, choose primes for the other two to match. Make the number of letters go in ascending or descending order, or make them all add up to your favorite number. You can even make the initials spell something mathematical, like TAN, COS, or DIV. Probably no one will ever notice your secret nod to math with these baby names, so don't be afraid to go all in!
More baby names
Nautical baby names
Sassy baby girl names
Most popular baby names
More From SheKnows Explorer
Comments
(0)
Subscribe to this comment's feed
Write comment